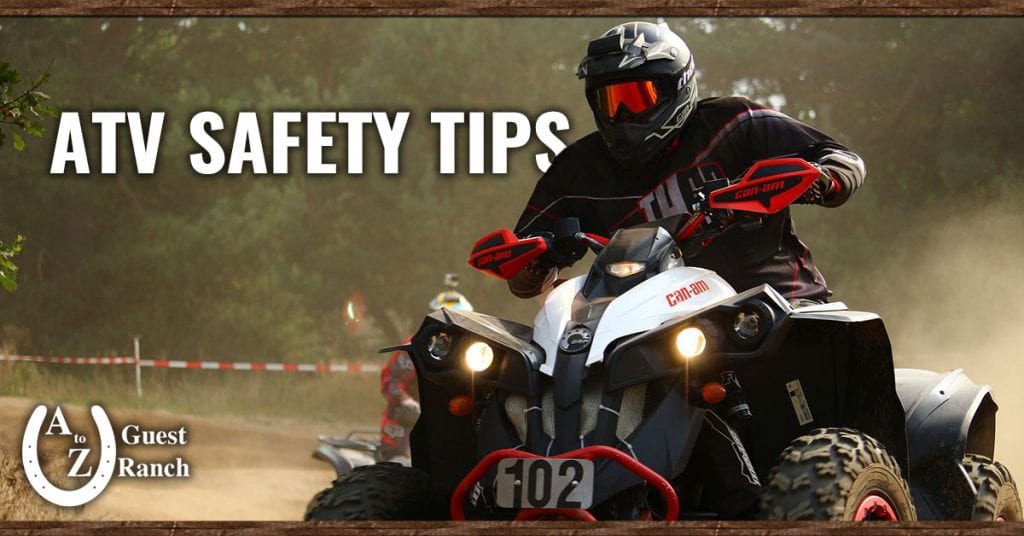 One of the things guests love to do at A to Z Guest Ranch is ATV trail riding. We think it's a fun way to explore the ranch, and have ATVs available for rent. We want our guests to have fun, but more importantly, we want them to be safe. It is important for all ATV riders to be aware of the state's ATV laws, and how to ride safely.
Oklahoma's ATV Laws
Anyone seventeen years of age or younger, MUST wear a helmet when operating an ATV.
ATVs purchased on or after July 1, 2005, shall be registered and titled.
ATV use on streets or highways is prohibited except: to cross these roads, or for no more than 300 feet to cross a railroad track during daylight hours, or on unpaved roads on U.S. Forest Service property.
ATV Safety Institute's Golden Rules
Wear a DOT-compliant helmet, goggles, long sleeves, long pants, over-the-ankle boots, and gloves.
Never ride on paved roads except to cross when done safely and permitted by law – another vehicle could hit you. ATVs are designed to be operated off-highway.
Never ride under the influence of alcohol or drugs.
Never carry a passenger on a single-rider ATV, and no more than one passenger on an ATV specifically designed for two people.
Ride an ATV that's right for your age.
Supervise riders younger than 16; ATVs are not toys.
Ride only on designated trails and at a safe speed.
Take a hands-on ATV RiderCourse and the free online E-Course. Visit ATVSafety.org or call 800.887.2887.
Other important safety tips to follow:
Do a pre-ride inspection of your ATV
Don't ride alone and always tell someone where you are going
Take a break and rest when you feel tired: The ATV Safety Institute recommends taking a break at least every hour
Ride smart: Don't show off or attempt any tricks