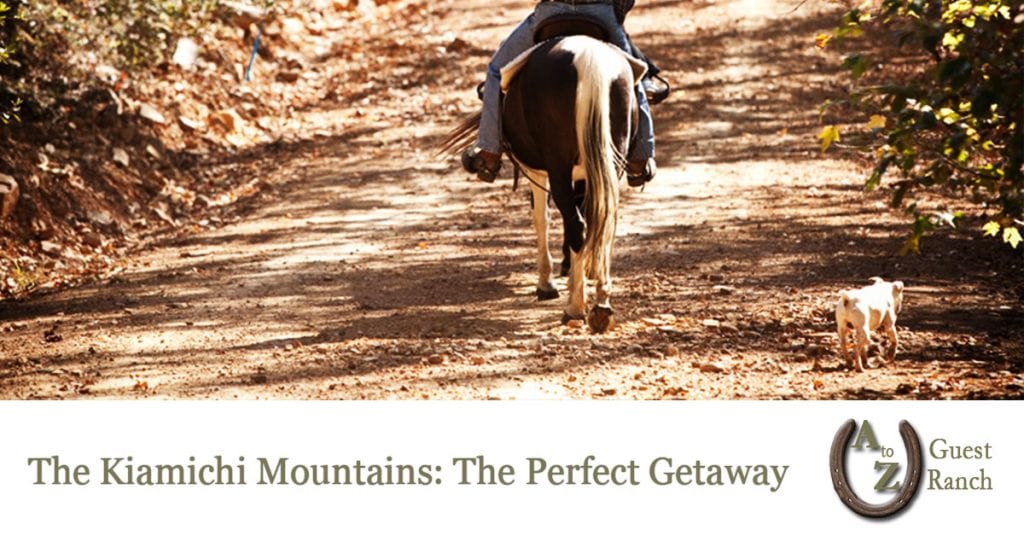 One of the things that makes A to Z Guest Ranch the perfect getaway is its location. Tucked away in the beautiful Kiamichi Mountains, the ranch is a place where guests can really 'escape'.
The Oklahoma Historical Society describes the Kiamichi mountains as one of the most picturesque areas in southeastern Oklahoma. "With elevations reaching 2,500 feet above sea level, this range lies in a frontal belt of the Ouachita Mountains of Arkansas and Oklahoma."
The origin and meaning of the word 'Kiamichi' is not definite. As discussed in the Oklahoma Historical Society's Chronicles of Oklahoma, some believe the word comes from the Caddo Indians. According to The Bureau of Ethnology, it was the name of a nearby Caddo Indian village that lay at the mouth of the Kiamichi river in 1818. Others believe it is of French origin. Kiamichi may come from the French word "kamichi", meaning "horned-screamer", which is a species of water bird found in South America. There are no kamichis here, but perhaps the term was given due to the area's large population of noisy woodpeckers.
Indeed, there are multiple varieties of woodpeckers that can be heard in the Kiamichi mountains. The area is thriving with wildlife, and is home to 328 vertebrate species including deer, coyotes, bobcats, and black bears. You may also see cougars, minks, bats, bald eagles, doves, owls, and road runners.
Ancient mountains like the Kiamichis are beautiful all year round, and it may just be one of the best places to experience the colors of Fall. The creeks, natural springs, lakes, and the Kiamichi River enhance the beauty of the area even more.
At the ranch, you can surround yourself with the mountains' beautiful scenery. The cabins provide the perfect escape, where you can smell the aromatic pines and hear the crystal-clear creek that runs nearby.
With marked trails that span across 1,452 acres, the ranch is one of the best places to go to explore the mountains. Whether you prefer to take in the scenery from the back of a horse, or the seat of an ATV, you can be sure the experience will be great and the scenery beautiful.
In addition to the beautiful scenery, there are several fun destinations in the Kiamichi mountains. The ranch is conveniently located near some great spots that ranch guests are encouraged to visit. Broken Bow Lake, which is only 30 minutes from the ranch, is a beautiful place to fish and canoe. Also in the area is an antique shop, café, winery, western and country stores, and even a fudge factory.
So if you're wondering where to go for your next vacation, come visit us at A to Z Guest Ranch and experience the beauty of the Kiamichi mountains.